In order to remove mould and stop it from growing back, professional treatment is often required.
However, the costs involved, coupled with a general misunderstanding of what professional mould removal involves, act as deterrents for many. 
So, what exactly does professional mould removal involve?
And how much is it going to cost you?
Read on to find out.
Cost of Mould Removal in Australia
Costs for professional mould removal range between $500 to a few thousand. However, in some cases, costs can be higher.
On average for residential properties, mould removal costs between $500 to $2000.
However, there are a variety of factors that impact how much treatment will cost. So it's difficult to provide a cut-and-dry answer.
Factors That Impact Treatment Costs
The cost of mould removal will generally be dependent on the following factors.
The coverage area of the mould; small and contained infestations will cost less to treat than large-scale infestations. For example, mould growth in a small bathroom will cost less to treat than an entire home infested with mould.
The location of the mould; mould growth in hard-to-reach areas such as ceilings, crawl spaces and behind walls

make the treatment process more difficult and will lead to higher treatment costs. With

specialised equipment or additional labour being required to effectively treat the issue.
The severity of mould growth; the severity of infestation will impact the cost to treat the mould. Severe cases of mould growth that have been left untreated for long periods of time can require longer-term treatment plans to effectively resolve.
Type of mould; there are thousands of mould species, with some

more aggressive and hazardous than others. Final costs will be impacted depending on what mould type is being treated. 

The equipment required for treatment; if specialist equipment is required for treatment, this usually leads to higher treatment costs. For example, dehumidifiers will often need to be utilised in the case of properties with mould growth as a result of water damage or flooding.
In summary
It's impossible to give an exact price for mould removal until a thorough inspection of your property has been completed by a professional.
A thorough inspection ensures all the above factors are assessed and most mould removal specialists provide this service free of charge as part of their quoting process.
After an inspection is completed, you should expect a transparent breakdown of the costs involved to remove the mould, as well as detailing the factors surrounding the mould growth.
The Cost of Not Addressing a Mould Issue
Many focus on the cost of removing the mould, but don't consider the cost of leaving a mould issue untreated.
Mould grows every 24 hours and has usually colonised within the first 12 days of being visually noticeable. So, the longer mould is left to grow in your property, the greater cost of treatment can become, not to mention increased health risks.
Acting early could save you thousands in the long run.
The cost of professional treatment is low in comparison to the long-term damage mould can do if left untreated. Especially if it gets its way into the architectural integrity of the premises.
The best way to reduce the cost of any mould removal treatment is to organise a property inspection as soon as possible to know where you stand.
What's Involved in Professional Mould Removal?
Contrary to what many assume, treating a mould issue is not something that is completed in one day, nor is it completed upon removal of all visible mould.
There are several stages to effectively remove mould and additional measures required to prevent its growth from reoccurring. These stages are often summarised as mould remediation.
Many associate the cost of treatment with just removing the mould they can see. But in reality, professional treatment usually covers many other steps that are crucial in ensuring a permanent solution.
A professional mould removal treatment will usually involve the following.
Property Inspection
Before any treatment begins, a property inspection is required to ensure the technicians know what they're dealing with. As part of this process, a professional mould technician will thoroughly inspect the property to source the cause of the mould and the extent of any damage.
Using specialised equipment, the technician will take readings to measure the humidity and moisture levels in the air. When required, they may also test the air quality and take samples for lab analysis.
After the inspection is complete, you will often be provided with a findings report, recommended treatment plan, as well as a transparent quote.
Mould Removal Treatment
Once you have accepted the quote for treatment, the next stage is often the actual 'mould removal'.
Professional mould removal involves not only removing the mould you can see, but also the airborne spores you cant. 
Professional mould removal is usually a two-part process.
The two phases of professional mould removal are as follows.
1. Remove all visible mould; visible mould is physically removed from any contaminated surfaces first. This is performed with professional equipment and PPE by highly trained technicians.
2. Misting treatment to kill airborne spores & restore air quality; to stop mould from growing back and future infestations from occurring, airborne spores must be eliminated. An antimicrobial misting solution is often used to eliminate airborne spores and leave the property in a mould-neutral state (as well as remove any mould-related odours in the property).
How long does mould removal take?
Mould removal treatment is usually completed the same day.
If your mould removal company uses environmentally friendly treatment methods, you will usually only need to leave the property for the duration of treatment and a few hours afterwards.
Mould Management and Prevention Plan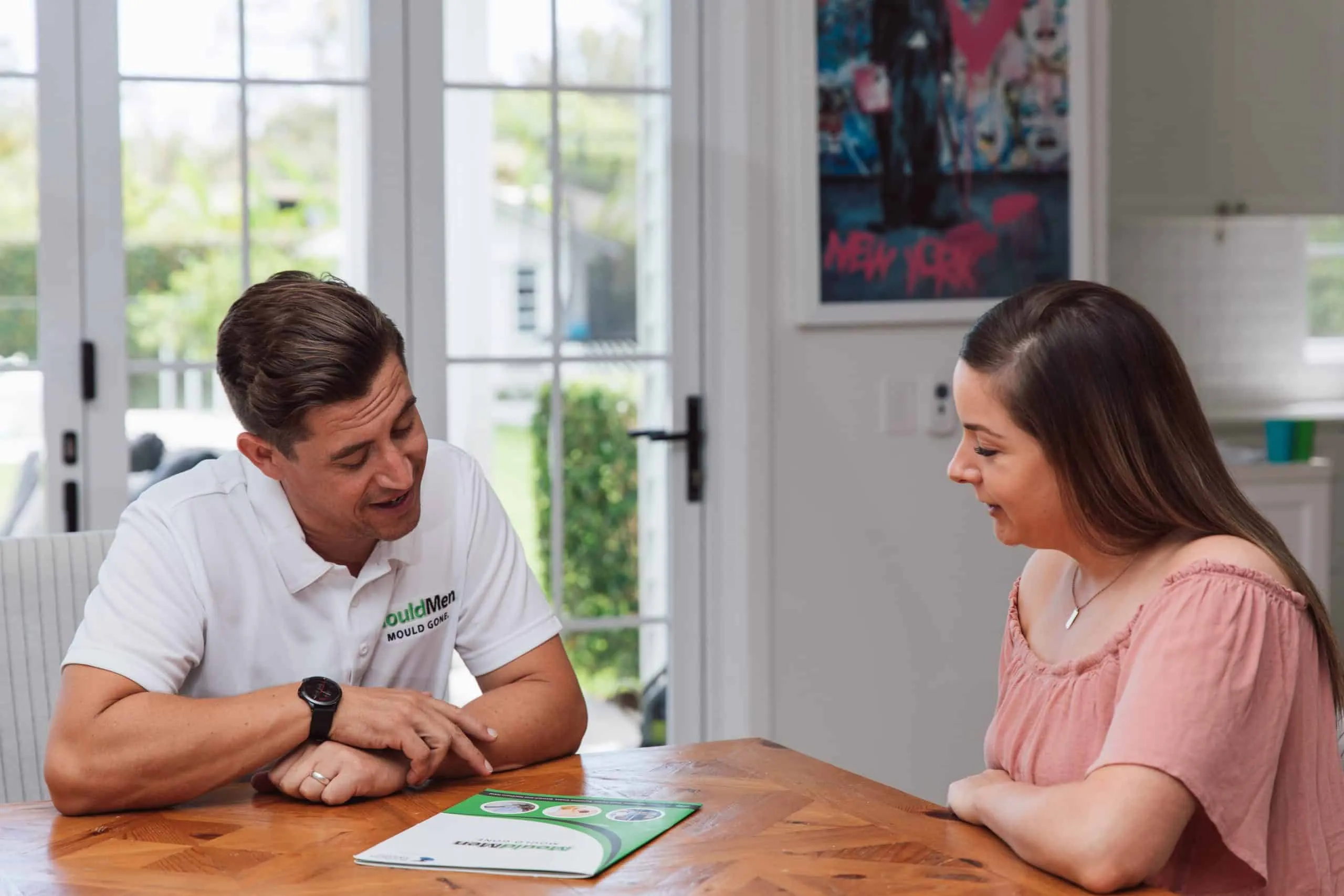 Even after the mould is removed, this usually isn't the end of the treatment process.
There is often aftercare required to help ensure the mould issue doesn't re-occur. This could be everything from follow-up treatments to prevention plans that occupants can follow themselves to prevent future mould growth.
A reputable mould remediation company will take care of you after treatment by providing you with a mould management and prevention plan tailored to your property.
Sometimes Additional Services Are Required
No mould remediation treatment plan is the same. There are always circumstances where additional services are required to effectively treat a mould issue. These include: 
For Water Damage
If your home is affected by flooding or severe water damage, professional equipment is often needed to resolve the problem quickly before mould takes hold.
Some mould remediation companies provide specialised structural drying equipment and water damage restoration services to treat water damaged properties or remove water damaged items.  
Air Conditioning Cleaning
Mould growth in air conditioning units and dehumidifiers is more common than you think. Therefore, air conditioning cleaning and sanitisation is often an additional service required for effective mould removal.  
Failure to address mould growing in a ducted AC unit can often result in spores being blown throughout your home, increasing the chance of re-infestation.  
What About Removing the Mould Yourself?
Cleaning small surface areas of mould spots may be possible to do yourself, however, it's never a solution for serious mould growth.
A Good Rule of Thumb: DIY mould removal methods are usually ineffective for mould growth larger than the size of your palm. In these cases, professional treatment is recommended.
If you're thinking of trying to remove mould yourself using remedies such as bleach, vinegar or baking soda, make sure you are wearing protective gear such as a face mask, gloves and eyewear.
Only attempt to remove small patches of mould or mildew and reach out to a professional mould removal service if you smell mould or discover large mould patches. 
Risks & Limitations of DIY Removal
Even with small mould patches, mould growth can be hazardous to your health.
Any attempt at DIY removal methods can risk spreading invisible mould spores into the air of your property. 

Even when all visible mould is removed, airborne spores will still likely be circulating in the air. This can lead to the mould growing back 'again and again', as well as health risks to any occupants breathing these spores on a regular basis.
Even when visible mould has been removed with DIY methods, its spores are still likely to be circulating in the air – and the root cause of the issue has likely not been addressed.
In summary:
For mould growth smaller than the palm of your hand, DIY removal can be effective.
However for mould growth larger than the palm of your hand, or if you smell mould throughout your home, DIY mould removal methods are not an effective or safe solution. And professional treatment is recommended.
When to Call a Mould Removal Professional
The cost of mould removal will differ on a variety of factors, but will always outweigh the cost and damage you will face if it is left untreated. When you find mould in the home or property, it's important to take immediate action to avoid an infestation and seek out a reputable mould removal company. 
The MouldMen team will inspect, treat and provide you with a Mould Management and Prevention Plan to ensure that your home is kept safe and free from mould. Call us on 1300 60 59 60 to book your free inspection today.